Galaxy Note Prestige Vintage G-note Series is Zenus's New basic line product with the finest Italian Vintage Nubuck Leather. It will get natural color and feeling as time passed in usage.
Considerate design applied for Galaxy note's funtions And notebook like design for unity with the name of Galaxy note.
Offers hand strap applied same leather with case for convenient carrying.
Case also features added functionality with built-in pockets to store credit cards and IDs.
FEATURES
Excellent grip with form fitting design to promote the slimness of the Galaxy Note
Finest Italian Vintage Leather
Complete all around protection
Ergonomic detailing to maximize the ease of usage
Free offered vintage hand strap
Practical and functional design with built in pockets to store the credit cards and/or IDs
** Click Image for Other Case Options**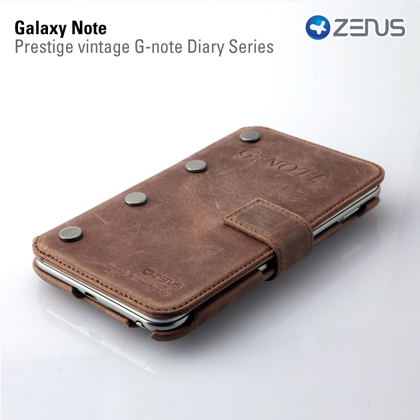 You may also be interested in the following product(s)
Regular Price: $79.99

Our Price: $44.99

Regular Price: $79.99

Our Price: $44.99

Regular Price: $89.99

Our Price: $59.99

Regular Price: $79.99

Our Price: $44.99